Nursery Mural Artist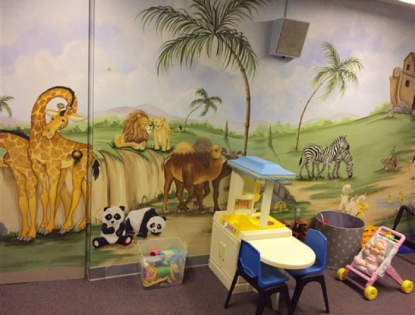 Christ Lutheran Church Nursery Mural
Lovingly painted by Barbara Richardson
Barbara Richardson is yet another example of one of our church members with a very special talent.
Barbara has been drawing and painting since she was a child. Her favorite teacher was her art teacher who saw Barbara's talent and encouraged her to pursue it. This encouragement led Barbara to go to Appalachian State where she was a Fine Arts major. She received both a B.A. and a Masters degree with teaching certification.

After college Barbara taught art in the Guilford County School system for 10 years before electing to try her hand as a free lance artist. After evolving through numerous forms of art application she eventually settled into doing murals and other forms of decorative painting for individuals and businesses.

While she is now officially retired, Barbara occasionally finds a project that she decides she wants to do. The church nursery was one such project. Barbara wanted a way to use her talents to give thanks for what she says is very much a gift from God.

What better way to express that than through a colorful, joyful mural for the children to enjoy when they are in the nursery. Barbara has a love for nature and has often been called upon to paint animals of all sorts. Her idea for the nursery was a simple concept. A story every child is familiar with, full of colorful animals and scenery seemed an obvious choice to her.

We have all seen the results of Barbara's wonderful talent on the walls of our nursery. Her answer to all the wonderful compliments is "To God be the Glory".